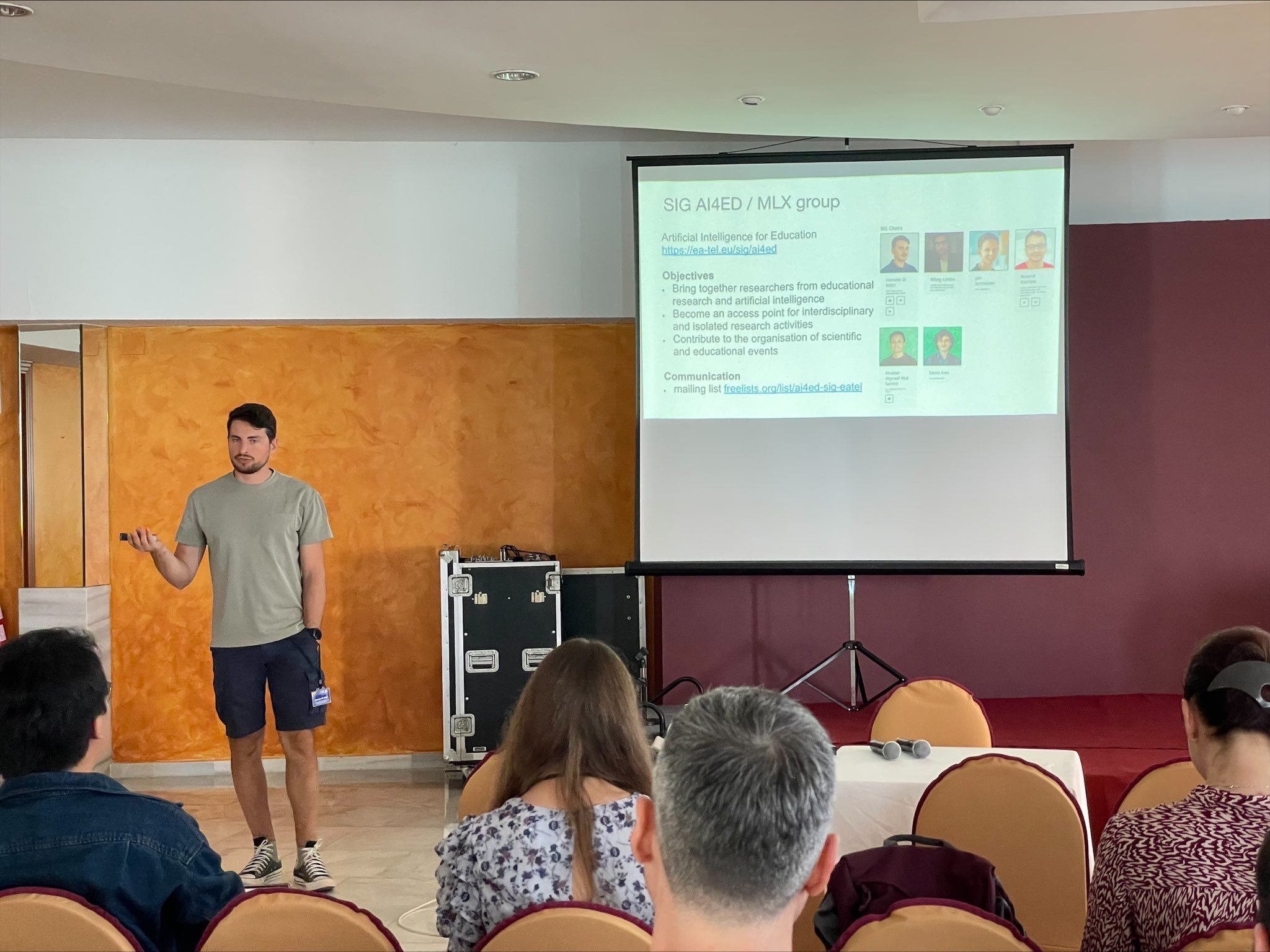 How Can AI Help To Learn Better? A Recap of the Workshop on Feedback Generation
At jTEL Summer School 2023 in La Manga, Spain, we hosted the "Artificial Intelligence Systems for Feedback Generation" workshop. The workshop was attended by a diverse group of participants who are young researchers in Technology Enhanced learning and interested in how artificial intelligence (AI) can enhance their learning experience. The workshop was led by Daniele Di Mitri, Jan Schneider, Roland Klemke and Bibeg Limbu, all experts in AI in education who shared their insights and experiences with us.
What is AI in education?
AI in education (AIED) is a research field that explores how to use AI techniques and technologies to support learners with individualized feedback, guidance, and processes. AIED can help learners achieve learning goals, improve performance, and increase motivation.
Some of the basic methods of AIED involve modelling the learner's knowledge, skills, and preferences using techniques such as constraint-based modelling, knowledge tracing, computer-assisted instruction, intelligent tutoring systems, or automatic grading systems. These methods can help provide feedback tailored to the learner's needs and progress.
What are the benefits of feedback generation with AI?
Feedback is an essential component of any learning process. It helps learners understand their strengths and weaknesses, correct errors, and improve their skills. However, providing effective feedback can be challenging for human teachers, especially when dealing with large classes, diverse learners, and complex tasks.
This is where AI can help. AI can provide timely, specific, actionable, and adaptive feedback. AI can also provide feedback that is multimodal, meaning that it can use different modes of communication, such as text, speech, images, or gestures. This can make feedback more engaging and interactive for learners.
Some examples of feedback generation with AI are:
Chatbots and conversational agents that can provide natural language feedback and dialogue with learners
Recommender systems that can suggest relevant study materials or activities for learners
Speech recognition and image classification systems that can assess learners' oral and visual skills
Early warning systems that can identify learners who are at risk of dropping out or failing
Multimodal learning experiences (MLX) that can support learning and training of psychomotor skills, attitudes, contexts, or emotions
What did we discuss in the workshop? 
The history and future of AIED
The main concepts and techniques of AIED
The existing and popular AI systems in education
The practical AI applications in education
The ongoing research on AI in education
The workshop consisted of two parts:
A lecture-style presentation introducing the rationale of AI in education for feedback generation
A brainstorming/group-work phase in which groups of participants worked on aspects of feedback with AI systems
The workshop was very informative and interactive. We enjoyed giving the presentations and engaging in lively discussions with them and other participants. We also had fun working on different scenarios and challenges related to feedback generation with AI. We learned a lot from each other's perspectives and experiences.
How can you learn more about AI in education?
If you missed this workshop or want to learn more about AI in education, you can still access some of the resources we used during the workshop. You can also check our website for more information about our upcoming workshops and events. You can also contact us at EATEL's Special Interest Group in AI 4 Education with any questions or comments.
We want to thank everyone who joined us for this workshop and helped us discover how AI can help us learn better. We hope you enjoyed it as much as we did. We look forward to seeing you again at our next workshop. Stay tuned for more updates on AI in education.